DCM Lawn fertilizer autumn - 20kg for 400m²
Free garden bag with the purchase of DCM autumn fertiliser 20kg!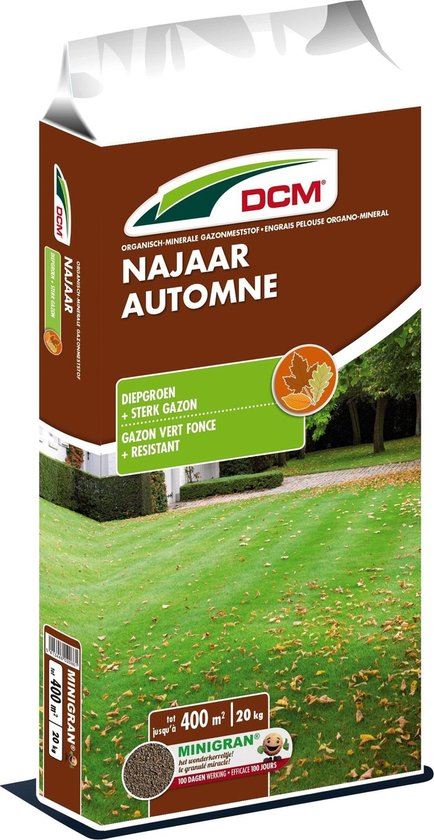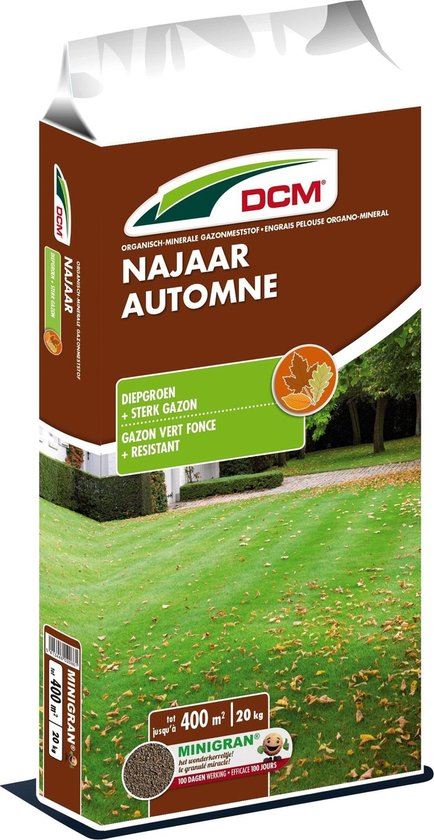 Free delivery from € 40

Tailored advice from our experts

Pay safe online
Product information "DCM Lawn fertilizer autumn - 20kg for 400m²"
When ordering more than 6 bags, we ship this on a pallet (+ 1 business day)!
Suitable for an area of 400 m²
Content: 20 kg
Application period: from August to October
Provides a deep green and strong lawn
Compound organic-mineral fertilizer NPK (Mg) 8-4-15 (3) with iron Fe
Free DCM garden bag (worth €13.95) with the purchase of 1 bag of DCM autumn fertiliser 20kg!
Offer valid until 31/10/'23 or end of stock.
Prepare your lawn in time for harsh winter months with this lawn fertilizer from DCM with Minigran technology. Thanks to the small pellet, the fertilizer is better distributed up to 60%, ensuring an even emergence and nicely distributed rooting (less susceptible to diseases and fungi due to e.g. snow remaining).
This organic lawn fertilizer is rich in potassium to strengthen the lawn during winter against frost and treading (intensive use) so it leaves less room for moss.
Lawn fertilizer autumn contains magnesium and iron - these give the grass a deep green color.
This autumn fertilizer releases nutrients for 100 days and is also suitable for the organic garden.
Dose: 0.5 - 0.7 kg/10 m²

The result of working with DCM autumn fertilizer? A dense, moss-free turf until spring!

This 20kg bag is suitable for an area of 400 m². A version for 200 m² is also available from Hermie.
Product specifications
| | |
| --- | --- |
| Composition: | NPK 8-4-15 + 3MgO + Fe |
| Form: | Mini pellet |
| Function lawn fertiliser: | Autumn fertiliser |
| Origin: | Organic + mineral |
| Recommended dosage: | 0.5 - 0.7 kg/10m² |
| Suitable for garden section: | Lawn |
| Yield in m² per pack: | 400 |
| Content in KG: | 20 |
| Weight: | 20.09 kg |
| Contents: | 20 kg |
| Package dimensions: | 12L x 40W x 75H cm |