Which type of greenhouse should I choose?
Greenhouses, also known as garden greenhouses in the Netherlands, have long since ceased to be found only in grandma's garden. Their main purpose is still to grow fruit and vegetables in a warm environment, but nowadays they are also increasingly used as garden rooms. The conservatory then becomes an extension of the living room, but between the green of the garden. They come in all shapes, colours and finishes as well as price ranges. In this article we will therefore list a number of different types of conservatories with their target price and characteristics. This way you can easily determine which conservatory fits your lifestyle and, not unimportantly, your budget!
Basic conservatory: between 100 and 200
These are budget-friendly conservatories made with foil.
Suitable for gardeners who have no experience with a conservatory, and want to give it a try without spending a lot of money.
As the greenhouse is made of foil, it should not be placed in the wind. Otherwise, it will simply be blown away by a gust of wind. You must therefore anchor them very well in the ground.
In the morning there will be condensation on top of this greenhouse so that the drops of water will fall on your plants.
Life span of approximately 2 years.
We sell a few basic entry-level models. There are websites that specialise in this. They offer tunnel greenhouses of 6 m for 120 euros, for example, and a much wider range.
Budget polycarbonate greenhouses: ± 300 to 600 euro
Here we start talking about beautiful-looking conservatories made of polycarbonate (often 3 to 4 mm) or ordinary horticultural glass.
Our advice?
Even though we offer some of these models ourselves, we absolutely do not recommend the above types of conservatories! Certainly not if the greenhouse is open and exposed to the wind. The experience of various gardeners who have installed such greenhouses teaches us that the panels are simply blown away in stormy weather or the entire frame even collapses. Everything must therefore be separately secured against the wind and it is best to attach reinforcements yourself. Experience has taught us that cheap is actually expensive. We think the price is too high for what you get in return.
The theme of those cheap (tunnel) greenhouses can also be placed in the current climate theme. Many gardeners are ecologists, so we also like to look at this from an ecological point of view. So what do you choose:
- A cheap (tunnel) conservatory that lasts only a few years = disposable culture
- A more expensive (tunnel) conservatory that lasts a lifetime (although you will have to replace the tunnel conservatory foil every ± 10 years). Perhaps it is also important to consider this factor?!
I am convinced that a more expensive (tunnel) greenhouse is the cheapest, best and most environmentally friendly solution in the long run if you are a real garden lover! Unfortunately, this quickly leads to amounts of 1000 euros or more. For the critical customers who think that we only recommend more expensive greenhouses because we would earn more on them: this is not true! The margins on the cheap greenhouses are double to triple those of the quality greenhouses. Unfortunately, so are the problems that the cheap versions bring with them. We only recommend the cheapest versions to people who are not sure whether vegetable gardening is something for them and want to give it a try.
A video I found on the internet of someone putting the sum to the test:
Foil or tunnel greenhouse of AA quality (650 to 1200 euros)
For a tunnel series of good quality, go to Filclair. These series of tunnels are more expensive, but you will immediately notice the difference in quality. We therefore fully support this brand. We also have 1 small tunnel greenhouse from ACD in our range.
The price is a bit higher, but then the film is also of the best quality. The film lasts an average of 7 years, whereas a cheap variant will need replacing after just 1 or 2 years. Our own Filclair tunnel greenhouse in the garden has lasted for no less than 14 years.
The frame is very sturdy and will last "a lifetime".
The foil can be purchased separately if you want to replace it.
What are the advantages of a tunnel conservatory over a glass one?
These are cheaper than the glass conservatories. Ideal if you want a lot of space for your money.
Moveable: Loosen the anchors and you can move the tunnel greenhouse with a few helping hands. Allow 100 kg for every 6 m of length with the standard 3 m wide tunnel greenhouse.
And the biggest disadvantages?
You need to replace the film. Filclair's foils are known for their strong quality but you should expect to have to replace them every 7 years. Our own tunnel greenhouse has a few holes in the membrane but has lasted for 14 years.
Visually less attractive.
Fewer options possible. For example, an automatic window opener (which we always recommend) is not possible.
Glass greenhouses (ACD)
These are the 'classic' conservatories as most people know them. These greenhouses are immediately much more solid but also more expensive. We can divide this category into 2 types:


1. Intro Grow: from 600 euro

The Intro Grow is a basic greenhouse. Good for someone who wants to grow in a greenhouse and still wants quality but does not want to spend a large budget on this.
Disadvantages compared to the Prestige greenhouses:
The windows are not in one piece but are attached with aluminium clips. Weather conditions can cause these to rust over time.
Foundation not included.
There are only a limited number of options available and if you want a lacquered conservatory, you can only choose from 3 colours.
These conservatories are not made by ACD. We therefore expect that these conservatories will no longer be sold within a few years, which means that you may also encounter problems in obtaining spare parts.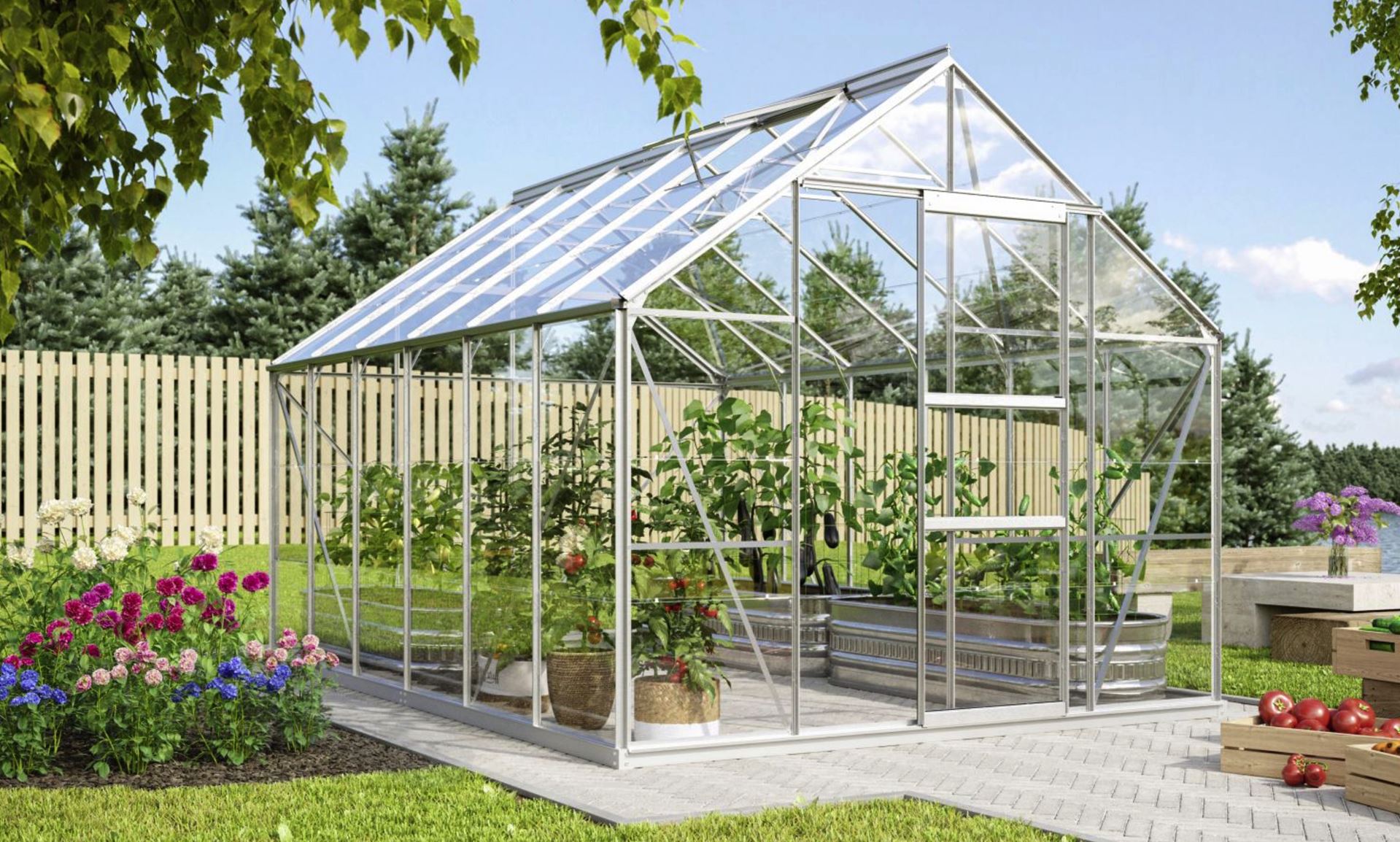 2. Vitavia conservatories: from €850
Vitavia's glass conservatories are known for their outstanding German quality, at an attractive & affordable price for a glass garden greenhouse. We currently have several superpromos from the Neptune and Jupiter lines in our range!
Good price-quality ratio
With 6 cm thick steel construction foundation
High ridge height so you can effortlessly stand upright in the greenhouse. This avoids back problems!
Each greenhouse has TÜV certification
High-quality construction
Home delivery in a self-assembly kit
10-year manufacturer's warranty on the frame
2. Prestige conservatories: from 1300 euro
You cannot compare these greenhouses with the ones mentioned above.
The windows consist of one piece, and have crenellated safety glass. Thus, the sunlight cannot burn the plants and the water droplets are led down nicely.
This greenhouse is also self-supporting so no foundations are required. It can be ordered in many different sizes and colours.
Tailor-made 'wall greenhouses' are also a possibility here.
Of course, we prefer this type of greenhouse but the price will also be higher. The conservatories are also much sturdier, they take up more material and they are always made with safety glass.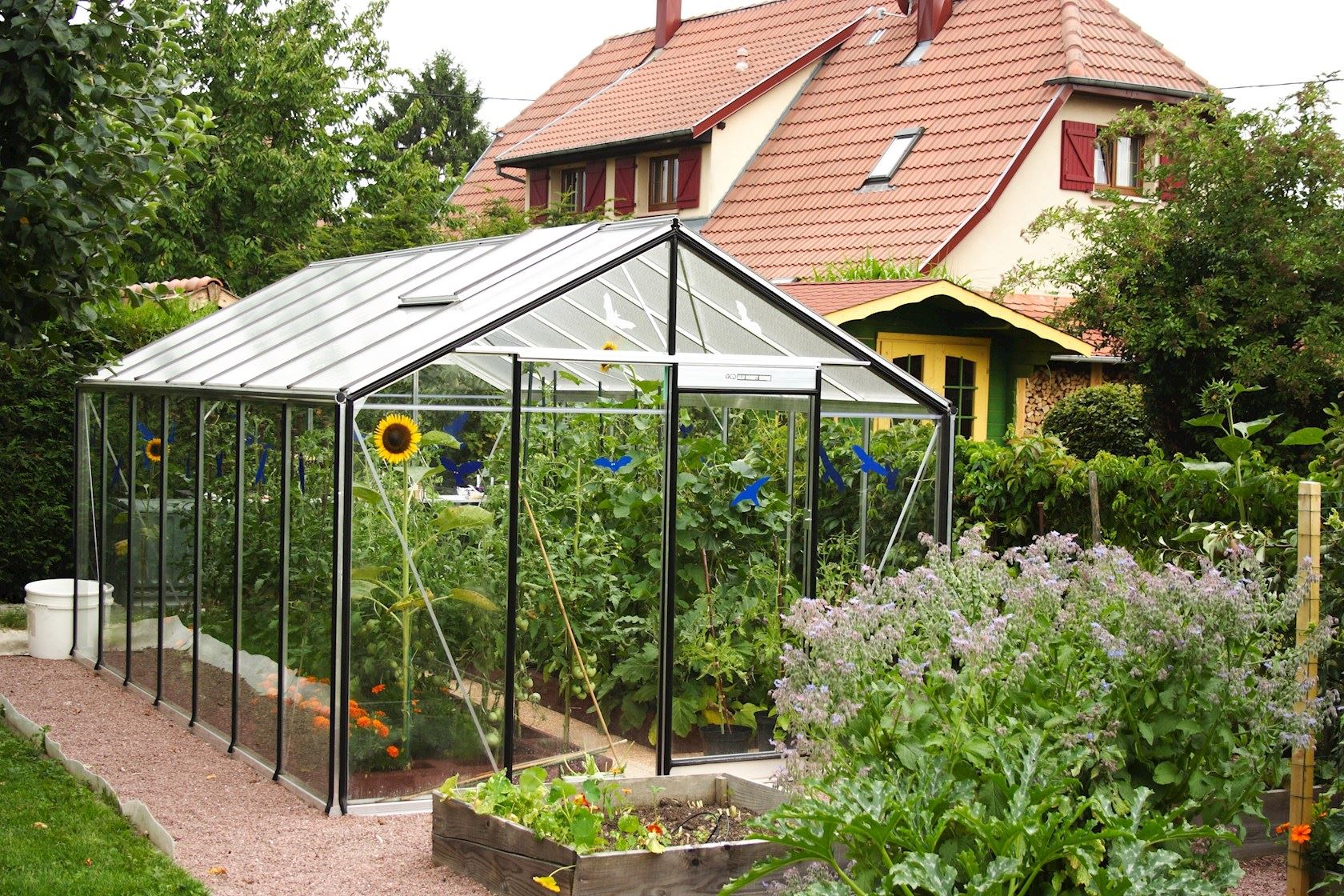 These greenhouses also often serve as a living space where you can enjoy a good book or a cup of coffee. You can also decorate the greenhouse with all kinds of indoor plants, but it is especially an ideal environment for the cactus. With a glass greenhouse, you can enjoy your garden to the full during all seasons. The first spring sunshine feels so much warmer under the glass. During the summer, you can attach a shade cloth to your conservatory, which provides protection. In autumn you can enjoy the beautiful colours of the leaves and in winter you can admire the winter landscape in a thick jumper. You can even install a heating element. But beware: it remains a greenhouse that is not 100% waterproof.
Among the Prestige conservatories you will also find a number of types that can satisfy everyone's wishes. From small ones that are ideal for a city garden or that can be placed against the façade, to large conservatories with all options. Do you have any questions? Feel free to send an e-mail to our customer service at info@hermie.com!
In this video our greenhouse expert Jelle explains the advantages of an ACD greenhouse and why they are resistant to stormy weather. 👩‍🌾
Straight or sloping walls for a conservatory?
Is it better to buy a greenhouse with straight or with sloping walls? This choice is purely personal.
There are advantages and disadvantages for each type. That is why we would like to list them in this article.
Straight walls?
A greenhouse or conservatory with straight walls is the most frequently sold.

The advantages:
Most people find this visually the most attractive
Takes up the least space
You can use all the space inside the greenhouse 100%.
Sloping walls?
Sloping walls are sold less but have some advantages over straight walls:
Ideal if space is no object. The conservatories with slanted walls all have a larger ground surface than their brother with straight walls.
You have more light and heat storage because of the slanted walls. The surface area is in fact larger AND the light is better distributed. This is especially useful during colder periods such as early spring and autumn.
The wind does not 'bump' against your conservatory but is guided over it. The construction is also more stable because the weight of the roof is better distributed. ACD conservatories are already very sturdy by nature but do you live in stormy areas? Then perhaps this is an important factor.

The biggest disadvantage?
There is not enough height on the side walls to grow tomatoes, for example. These can only be grown in the middle strip.
These articles might also interest you? 👇
Do you still have questions? Call us or make an appointment for personal advice and a visit to our demonstration greenhouse in Eeklo.