Stimulate your senses with our scented candles!
🔥 Atmosphere creators
Scented candles or candle sets are real mood-enhancers in the home and are often given as gifts to friends and family. They also do well in a gift set for holidays such as Mother's Day, a birthday, a wedding, Christmas, a party or a baby shower. Are you a true romantic? Then give your loved one a set of scented candles, combined with flowers and a nice bottle of wine to start the evening in style!
With scented candles, you can decorate any room, for example as mood lighting in the bathroom during a relaxing bath! Handy is that these candles also spread their scent when they are not burning - ideal to give even the smallest rooms (e.g. toilet) a fresh scent and a stylish boost.
Have you organised a wild party? Then you can quickly neutralise and get rid of the nasty smells of food (e.g. gourmet or fondue), alcohol or smoke inside with this decorative item. 👃 Ideal for the students among us. Moreover, you'll make your mother happy with a nice present! That's going to score points (as opposed to the report card after all those wild nights...)!
You can also use scented candles outside, for example on your terrace. It is lovely to sit outside on a sultry summer's evening in cosy light with your friends, isn't it? Moreover, scented candles with citronella have the nice advantage of chasing off all sorts of annoying insects such as wasps! Decorate them with some extra leaves of mint or lavender, and you create an extra barrier for mosquitoes and flies! 🤘
Let yourself be transported to a tropical island with the scent of coconuts, or imagine yourself during the winter days in a snowy chalet with a crackling fire. With the delicious scented candles you choose your favourite destination in your own home! Our sense of smell is one of our strongest senses, and therefore evokes many memories!
🔥 Our top sellers
At Hermie we offer perfumed candles of 2 luxury brands we are huge fans of: Yankee Candle and WoodWick. Our own customer service employees are so convinced of the positive effects that they choose a different candle every day to transform our offices and other business spaces into pleasant and productive spaces!
Yankee Candle
Yankee Candle is the largest manufacturer of scented candles and the best-known brand of scented candles in the world. These candles are known for their high-quality, lifelike scents and the high number of burning hours (they last very long). There are dozens of aromas, models and colours that suit every interior and create a cosy, homely atmosphere in your home. So you can become completely zen at any time of the day or create a positive and wonderfully relaxing effect in your home.
WoodWick
WoodWick is the first candle in the world to have a patented wooden wick. It owes its name to the wooden wick. Thanks to high-quality soy wax and modern techniques, each WoodWick candle provides a pleasant, authentic fragrance and soft crackling sounds in every home. This makes it seem as if you are sitting next to a lovely relaxing fire! The Pluswick system features a patented crackling wick made of natural wood that produces a unique multi-sensory experience of sound, sight and smell. Prefer to see a long, dancing flame? Then choose the Heartwick system! All WoodWick candles come with an iconic wooden lid - handy if you don't want a specific scent!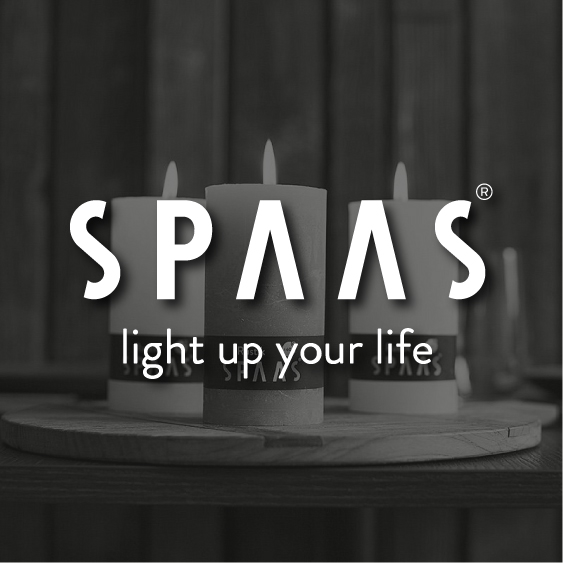 Spaas
Light up your best moments with candles from Spaas. Spaas aims to surprise and inspire people with ambience creators that add a touch of warmth to everyday life. Spaas' candles are carefully made to the highest quality standards & have the internationally recognised BRC quality certificate. This certificate stands for high-quality and safe products that meet strict quality standards.
🔥 How to enjoy your scented candle even longer!
After buying a luxurious scented candle, you want to enjoy it as long as possible. Here are some tips 👇


Are you lighting the candle for the first time? Then let the top layer of candle wax melt completely. Are you not doing this? Then a dimple will form around the wick, preventing the edges of the candle from melting. You will lose a lot of burning hours! This well-known phenomenon is called 'candle tunnelling'. Moreover, because the wick drowns in the dimple, you will not be able to light it properly.


Trim the wick of the candle so that it can burn nicely. For a Yankee Candle, we recommend 3 mm, while for WoodWick candles, 6 mm is the ideal length! Shortening the wick is easy with a wick trimmer, but for the WoodWick candles, we recommend gently breaking off the burnt off bits of the wooden wick with some kitchen paper. Do you leave the wick long? Then soot can form on the glass.


Don't leave your candle burning for more than 3 to 4 hours! Otherwise, the fragrance may evaporate into the bottom of your candle.


Place the candle in a safe & draught-free place. Can a draught pass over the candle? Then soot can form on the glass & of course that is a waste of your beautiful scented candle!


Soy wax burns cleaner than paraffin but we still recommend cleaning the glass regularly. This can easily be done with a microfibre cloth. This way, you can keep those cosy flames looking beautiful through the glass!


With only 5 mm of wax left in the glass, it's time for a new purchase! Extinguish the candle, gently wipe away the remaining wax, remove the wick & clean the glass. This way, you can use the pretty glass as a brush holder, biscuit jar or fill it with dried pine cones. Yay for upcycling!
🔥 For all tastes

Unfortunately, Smell-O-Vision does not yet exist, but we are doing our very best to describe all the scents for you as best we can! Are you looking for the perfect fragrance (for yourself or as a gift)? Then we will help you on your way!


Let these candles spread their sweet scent, and imagine yourself in a cosy coffee bar or patisserie with deliciously smelling pastries. These scented candles smell so good that you almost want to taste them! But don't, because the wax doesn't taste good at all (hearsay! 😉 )
Do you like a fresh walk in the woods in winter? Then the natural scent of cedar wood or pine trees will certainly charm you! Do you prefer to take a breath of fresh air in the dunes? Then choose a scented candle with salt for a salty touch.
These scented candles have floral notes, ideal for the romantic souls among us! So you can always enjoy the smell of freshly picked flowers in your home.
Do you like subtle scents in your home? These scented candles will make your home smell clean and nice. Just like the fresh laundry hanging to dry!
In our category 'scented candles', we have many more to choose from! There are plenty of spicy Christmas candles, relaxing spa candles and tropical holiday candles to choose from!


Sniff all our candles here
🙋 Do you still have questions? Contact the ladies of our customer service - they have a good nose for it! Many candles have already been tested, so they will be happy to give you personal advice!